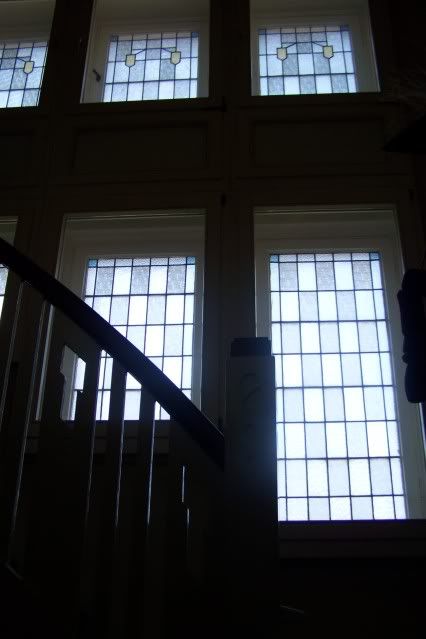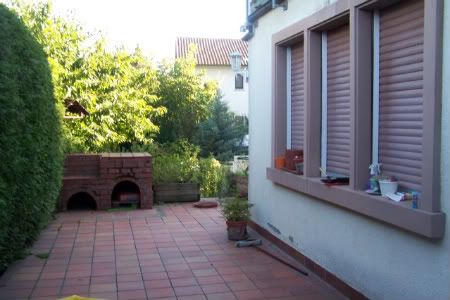 I took Philip and Sarah to see the house. It has been renovated in many good ways. It has new water, electric, and insulation. It has a newly renovated foundation. The walls have been renovated too. I guess from 1990-2000 they put 500,000 Euro into renovations. They are only asking 385,000 Euro for the house. It is in this way a deal. But the garden is not as large as I thought. The larger garden behind the house is being sold as building space. I guess 2 houses will be built behind the house. It does have a nice side yard. There is sun, a vegetable garden, and room for our trampoline. It is not overly large but pretty OK. The front garden is also larger, but shady. I could plant English roses and perennial flowers in the front yard. There are two garages and a larger parking area. There is a super large fig tree on the side yard (sort of a sign). Then there is a very nice patio and fireplace just off the kitchen.
On the ground floor there is a very large office, Living room, Dinning room, Kitchen, Guest toilet, storage pantry, and entry hall. The door ways are all Art Deco Style. The ceilings are high, and the moldings are very nice.
The stairway up stairs is very nice. There are stain glass windows in the stairway. Nothing fancy, all very simple.
Up stairs there were 4 bedrooms and one bathroom. 2 bedrooms were larger, and 2 smaller. There is a balcony off one of the smaller rooms. There was also a guest toliet. Then there is a steep stairway going up to the next floor. On the top floor there were 2 or 3 small bedrooms (I didn't write it down). There is also 2 larger unfinished storage areas. And then there was steep stairs going up to the very top of the atic. It has very good insulation, but it isn't refinished. None of the floors were old hard wood. I also saw no fire places in the house. It has oil heat. The basement has 2 larger rooms, and a oil tank room, as well as an unfinished washing machine room.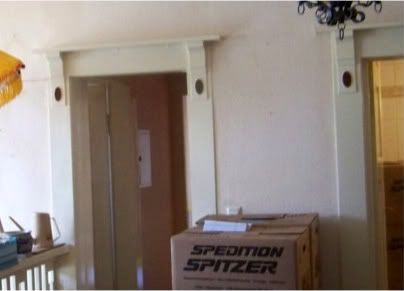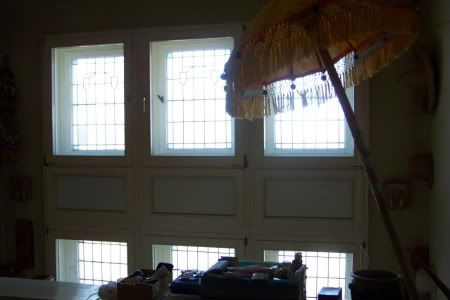 If I bought the house I would want new wall paper and flooring. Maybe one more bathroom and a new kitchen.
There were a dozen other people looking at the house. I know at least 3 of the families were very interested in it. We would have to sell our house. They actually start painting our house next week if the weather is good. I just got the phone call from the painter we have choicen. The Evanglical church is selling this house, and other properties because they are building a church center someplace (I didn't hear where). The pastor showed us the house. He was very interested to meet Sarah and Philip. He was a missionary in China for 25 years.